Thinking of visiting Georgian capital, but you are not yet convinced? Tbilisi is a lively city full of historical sights, exciting landmarks, and delicious food. There are lots of reasons why you need to back your suitcase and come to Tbilisi, but here are the most obvious ones.
Budget-friendly city
It doesn't matter if you are a luxury or budget traveler, Tbilisi, and in general, the whole country is very affordable to any traveler. We all know that accommodation and food are the most expensive things when traveling to a city. Here, the choice and price range of both is quite diverse, so it depends on the preference.
You can find Airbnb apartments for $20 a night, or rooms in luxury hotels starting from $250. Dinner can cost you around $20 in an average cafe or restaurant with a glass of wine, but you can also find a fancier one.
Additionally, transportation and visiting historical sights are relatively cheap. Most of those landmarks are even free to enter.
Tbilisi has a rich history
The city is one of the oldest towns in Europe. It boasts with lots of historical landmarks for you to explore. Ruled by various Middle-Eastern empires and later on by the Russian Empire, Tbilisi still features marks of those times in its backstreets.
Several different architectural 
In the 19th century, Tbilisi started to grow as a European city. Gothic and Moorish styles emerged along with Art Nouveau and formalized Medieval Georgian architectural decorations. The combination of diverse architectural styles forms a unique look for the city.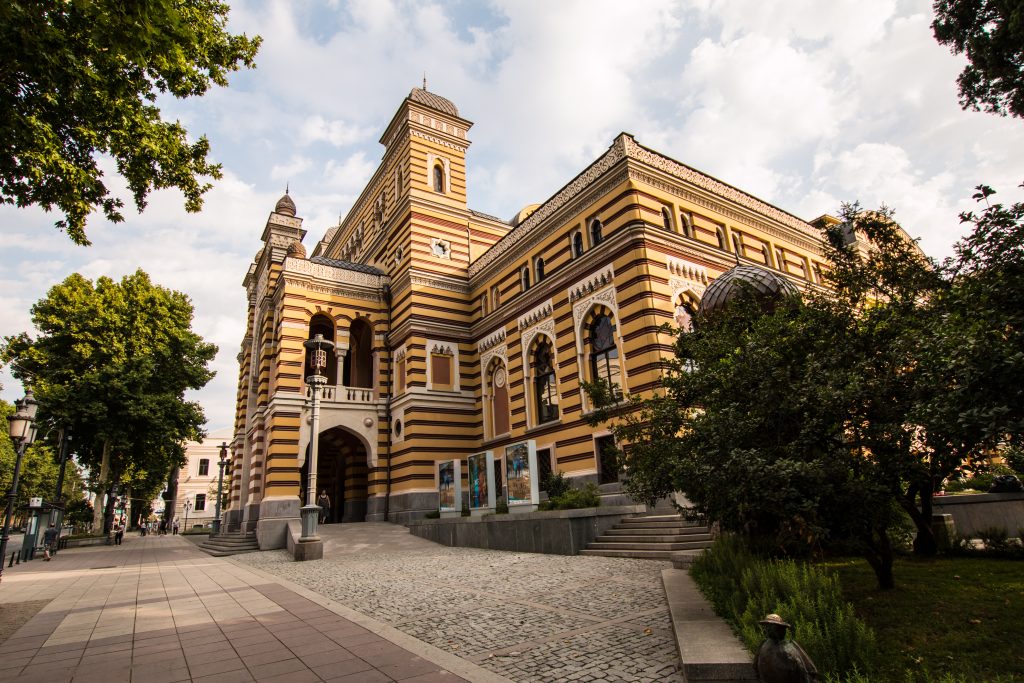 Apart from this, you can find architectural examples of each period the country has existed – ancient city walls, Soviet buildings, the ruins of the first town, and modern glass-covered buildings. Tbilisi perfectly combines that architectural mix within its territory, making it a truly unique place to visit.
Museums here are cheap
One of the main things to get the whole essence of the city is to visit its museums. One more advantage of Tbilisi is that its museums are quite cheap compared to other European cities. Prices start from GEL5 (US$1.68). You can visit history, archeological treasury, Soviet occupation hall, various art galleries, and folk instrument museums, to name just a few.
Street Art is booming here
If you like contemporary art, then you have one more reason to come to Tbilisi. Graffiti here is still in a developing stage, with new artists emerging daily. Some of those works might not seem very professional compared to other artists from Europe or the Americas. Still, several street artists do a superb job at decorating gray facades all across the city.
Shop at open-air bazaars 
Even if you are not planning on cooking at your Airbnb apartment, visiting those open-air bazaars is still a unique experience. Vegetables and fruits sold at those markets are cheaper and fresher compared to those sold in supermarkets or other shops.
If you want to buy unique souvenirs, check out the Dry Bridge flea market.
Attend several music festivals in Tbilisi
Tbilisi hosts different music festivals throughout the year. The majority of them are scheduled during spring, summer, and autumn, i.e., when the weather is warm. The most popular ones are Tbilisi Open Air for alternative music lovers, Tbilisi Jazz Festival, and Art-Gene for those who are into folk and understanding Georgian culture, to name a few.
The capital of assorted food
Even though the majority of the venues serve Georgian cuisine, others focus on cooking from different countries, including Asian, Mediterranean, Italian, Indian, etc. But as a visitor, you'll most likely want to eat local meals, so make sure to try Khachapuri, a cheese pie, Khinkali, the meat dumplings, Georgian kebab, and vegetables in walnut sauce.