As a viticulturist and winemaker, I must admit that I may forever remain a novice in this field. Both viticulture and winemaking are vast and boundless domains. The challenge lies in transforming soil, air, and sunlight into a thriving vineyard and exquisite wine. The more I learn, the more I recognize how much I have yet to discover.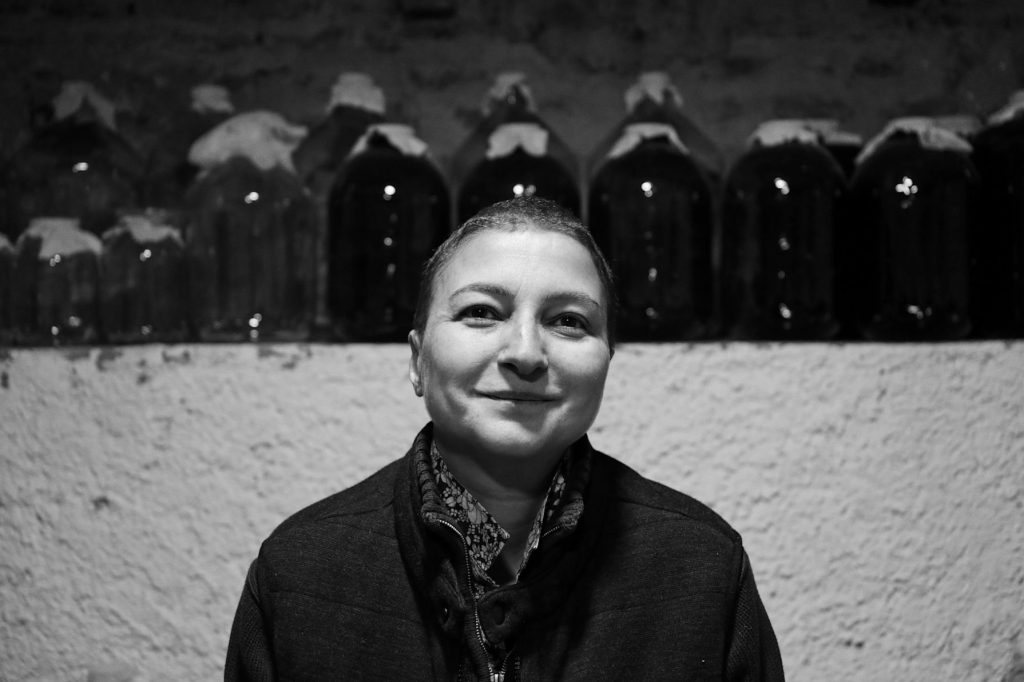 My journey began when I was living in Tbilisi, working as an editor for the publishing house "Palitra L." I was in search of a countryside retreat to escape the city on weekends. Alongside my husband, Zura Sanodze, our quest led us to Kakheti, Ruispiri, where we discovered a house on the village outskirts. The property boasted a spacious yard, a breathtaking view of the Caucasus, and most importantly, an ancient cellar and vineyard. Although I initially had no interest in either the vineyard or wine production, I found myself responsible for both. My first obligation was to care for the vineyard and cellar, which required me to study and understand them.
In 2017, I produced my first wine, Rkatsiteli, totaling 210 bottles. Shortly thereafter, our first importer and now friend, Zoltan Kovač, appeared and exported our entire inventory to Germany. This marked the inception of Zhuka-Sano's cellar, a proof of the simple truth that life is full of surprises, and the course of one's life can change unexpectedly.
In discussions surrounding female winemakers, it is common to hear references to "initial challenges" and "first difficulties" faced in the industry. Fortunately, I did not encounter such obstacles. In fact, I never even had to actively sell my wine or ask others to sample it. Everything transpired organically, and my wine sold effortlessly, with not a single bottle left unsold. This could be attributed to the fact that I never treated this venture as a business, nor did I adopt a commercial perspective towards the vineyard or a consumptive attitude towards nature. For my family and me, this labor brings immense joy and satisfaction. We welcome anyone who shares our appreciation for tranquil days, diligent work, basking in the sun and earth, observing the weather, pouring wine, and wandering through the vineyard from dawn to dusk.
Our vineyard is modest in size, consisting of half a hectare of Rkatsiteli vines, acquired alongside the house. Within this vineyard, we also cultivate three roots of the rare Kakhetian endemic variety, Ikalto Red. These vines have become the hallmark of our winery, as the wine produced from Ikalto Red generated significant interest among connoisseurs and enthusiasts in its debut year. Its intense color and rich flavor are such that three containers of red wine are blended with 47 containers of amber-colored red wine in the Qvevri. We dubbed this unique creation "3/47." Last year, however, I inadvertently altered the ratio of white to black grapes, resulting in a distinct wine with a pink-amber hue and a different character and energy. As this new wine emerged from an error, we christened it "Mistake" and included it as part of our cellar offerings.
We currently offer three wine varieties: Rkatsiteli, 3/47, and Mistake. Almost all of our wines are sold abroad, leaving little for Georgian wine bars and shops. In response to growing demand, we planted a new, small vineyard in 2020—large enough to manage without assistance and sufficient to maintain our quality standards.
You may notice that I occasionally use singular and plural pronouns when discussing our winery. Zhuka-Sano consists of two individuals: myself, Tako Zhuruli (Zhuka to friends), and my husband, Zurab Sanodze (Sano to friends). We both tend to the vineyard and cellar without hired help, and our children, Irina and Tamunia, also lend a hand. If Zura had not been as deeply committed and passionate about viticulture and winemaking as I am, my journey might not have been so smooth.
It would be misleading to suggest that we have not received any support. In fact, I am grateful for the assistance we have received, particularly from the GIZ(Deutsche Gesellschaft für Internationale Zusammenarbeit), which has contributed to many projects at our winery. I currently a member of the Kakheti tourism cluster under the "Clusters4Development" project, through which we have received various types of support. While much of this support is non-financial, it is crucial for our success. This assistance includes networking opportunities, connecting with valuable regional entrepreneurs, training, and promoting cluster members on various platforms—such as women winemakers' expos, participation in Christmas markets, and showcasing rare wine varieties at the ITB exhibition in Berlin. These initiatives are invaluable for promoting small wineries, and with persistence and dedication, development and financial growth are assured. In my opinion, such support is even more significant than just direct financial assistance.
We have ambitious plans for the future, including welcoming tourists! We invite individuals interested in natural wine and organic vineyards to experience our daily lives and share in our happiness. However, it is essential to develop this aspect in a manner that ensures the vineyard and cellar remain well-maintained. We are taking these new steps not to expand our business, but because we genuinely enjoy this lifestyle—harmony with nature and growth bring us great joy.
The Article is prepared within the women empowerment campaign #ProudHer. The Campaign is implemented by the Deutsche Gesellschaft für Internationale Zusammenarbeit (GIZ) GmbH and funded by the European Union and German Federal Ministry for Economic Cooperation and Development (BMZ).