She loves freedom more than anything else. With her courageous character she will make you believe that you can always find the power to believe in yourself and that you should never stop thinking about independence. Loving freedom to this extent is her everyday life – art, cinema, media… she always says what she believes in and even in her expression, never loses originality. For Olga, thinking about public consciousness never ends – in her family project, which is Temurs and Gela Babluani's new film school, she oversees the marketing direction.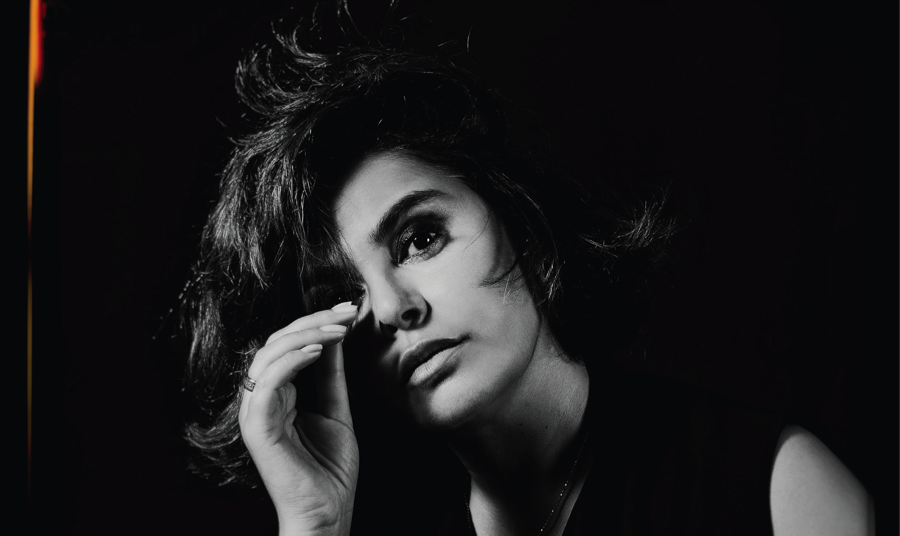 It is very important how we start our talk, so let's start with communications. What stages do we go through to express ourselves and afterwards, how do we create our own characters through our communication forms?
History and discoveries tell us that communication is a crucial part of human beings. For example, take the hieroglyphs discovered in Egypt. Napoleon Bonaparte discovered them during his journey in Egypt, whilst, Jean-Francois Champollion first deciphered the hieroglyphs – an ancient tool of communication which brought humanity information – this information took centuries for us to understand, but now technological progress and development allows for rapid communication. Anyone can have their own say and monetize his/her work.
Speaking expresses our thinking, thus we cannot teach children to talk; that is a biological process that allows us to grow and become adults. Teaching what to say, limiting and formulating our thinking, in the process of education is a great tragedy. Especially in a country like Georgia, where there is a very strict conservative environment, where we lack common sense. Children should be given the opportunity to express themselves individually, which will make them independent thinkers.
The education system appears very early in our lives and influences our socialization. In this sense, what is the importance of schools and universities?
School and university is the first place of socialization for children/teenagers. The connection between education and modernity should be improved. Knowledge and education is the only way to overcome poverty; for progress, the change of environment and for the development we need exactly this. At the same time, school does not just give education, it is actually a place where all the "primary" relations are taking place. It is important that teachers educate young people, give them the right direction, new discoveries and help students find themselves. Schools should make students feel empathy towards the universe, who will continue their journey with the right kind of foundation.
Education and the voice of the youth – what problems do you see in today's education system and do you have a solution to overcome these challenges?
The IMF direction Christine Lagarde was visiting Georgia, I will repeat her words "Another ingredient is education. We need connections between professionals. If we read research and talk with investors, they will all tell you that Georgia is a very good country for investment, but the main problem is that we do not find the people with the necessary skills who will be able to work". My priority is the ultra necessity of professional education.
Also, the quality of public education and it's accessibility. I believe that the difference in quality between public and private schools should not be gigantic… It is as if that the idea of a healthy future perspective and of creating a democratic society is lost…
Your family's new project is the establishment of Georgian-French Film School. What is your role in its conceptualization?
Georgian-French film school is a long-term project. The first large-scale institute in the Caucasus region. The concept of teaching is based on the French teaching model offered by our partners. Discussing details in public is too early now, but I still would like to say that it will be a huge project for the development of our country. In post-Soviet regions, and in general in the eastern region, this kind of film school does not exist. This project is directly related to regional development – creating professionals in our industry. Whether it's potential, intellectual or natural resources, environment … All these factors allow us to components engage in the global cinema industry. And most importantly, we give young people the opportunity to receive long-term education. The Georgian-French film school is my family project and I'm participating in marketing. Our partners are foreigners, so I cannot discuss more details with you without them but I will only add this – we are going in the right direction!
Your experience in media communications is also focused on education…
In Georgia, 80% of the population receives information from traditional media – television. We can safely say that the most influential media is television. Media has a huge influence on people. In today's politicized environment, where most outlets are dependant on the advertising market, my main goal was to create analytical show which would not influence the audience's thinking, but would allow the audience to right thinking. Due to the concept of our show, we provided the audience with cultural information based on analysis and facts.
Historical past made society lose the ability to express thoughts and emotions freely. How can we get it back and what is the role of art in this?
Art is generally a spiritual food. The creative environment is the main source of freedom. Self-expression: music, cinema, painting, contemporary art, street painting … It's all about exploding ideas that tell us about love, life, worry, joy, and social problems … Art is a democratic space where everyone has the ability to think, debate and evaluate without constraints. The main priority of political will should be to create a creative environment.
Again on liberty – if we lose freedom, how can we get it back so that we do not lose it again?
Freedom requires personal strength. Responsibility, choice, overcoming challenges and courage are what we need in everyday life to maintain our personal freedom. When free, one is able to find his/her true self. This phenomenon is not taught – it is a natural need for every living creature. We cannot receive love without inner freedom – it is always better to live our own lives than live with frustration… 20% of our country's territories are occupied, which is a clear example that we are not free and each and every one of us should fulfill our civil responsibility and try to contribute to our country's unification.
I did not ask her whether or not she believed that the art of cinema really freed humans? Her response would have been very clear. She can discuss endlessly how can the film school increase the youth's general consciousness and personal freedom. She has more to say on this, as well as on freedom, but I think in a different format, which allows her to turn her thoughts into reality.
Author: Tamara Kachakhidze
Photo Credits: Ana Boko