Georgia recently hosted the interdisciplinary cultural festival "Bridge: Tbilisi – Zurich" from April 1 to April 10. The event, founded and directed by Elene Chechelashvili, president of the "Georgian Cultural Platform" association, encompassed various fields, including cinema, literature, architecture, art, and music.
It is worth noting that the inaugural edition of the festival, featuring a Georgian program, was held in Zurich back in October 2021. According to the festival's official website and its founder, Elene Chechelashvili, the project aims to strengthen cultural dialogue between the two countries and foster a cooperative network.
One of the highlights within the "Bridge: Tbilisi – Zurich" festival, was an event, supported by TBC and dedicated to Swiss architecture, held on April 4 in the multifunctional space of the concept. Invited expert – Dr. André Bideau spoke to the audience about the critical aspects of the success of Swiss architecture.
Forbes Woman Georgia spoke with Elene Chechelashvili and Sofo Kikvadze, TBC Concept marketer, about the festival's founding idea, its objectives, the Georgian-Swiss program, and the collaboration between "Bridge: Tbilisi – Zurich" and TBC.
Elene, could you share how the idea for the festival was conceived and its purpose?
The interdisciplinary cultural festival "Bridge: Tbilisi – Zurich" aims to reinvigorate and strengthen the cultural connection between these two cities and their respective countries. The festival's goal is to showcase modern Georgian culture and art in Switzerland, while simultaneously introducing Swiss art and culture to Georgia. By doing so, it promotes deeper cultural dialogue and fosters a cooperative network between both nations.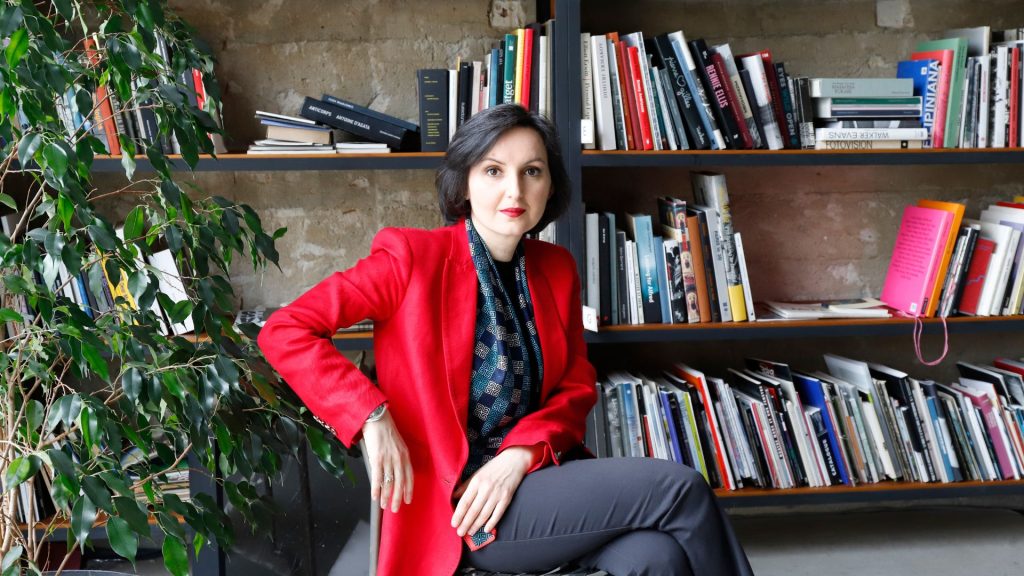 For me, conceiving and implementing innovative projects is an integral part of the creative process. Despite their differences, Zurich and Tbilisi both have a rich cultural heritage. The festival serves as a creative project that showcases Georgia as a modern, intriguing, independent post-Soviet country with vibrant colors, continually rising like a phoenix despite its hardships.
Zurich has historically been a safe haven for European intellectuals during the World Wars and a hub of cultural innovation. Similarly, in the early 20th century, Georgia was a vibrant cultural center in the Caucasus region, often referred to as the "Paris of the East." Tbilisi attracted artists and intellectuals from neighboring countries, creating a unique creative environment that later diminished under Bolshevik rule. Tbilisi had strong connections with leading global cultural centers at that time.
For me, returning to Europe entails reclaiming our place and restoring the severed ties caused by the Iron Curtain and prolonged isolation. These two cities, where I was born and now reside, have inspired me to create this festival.
Elene, can you share your experience with the Zurich festival in 2021? How was the program chosen, and what was the response to this project?
Elene: The "Bridge" festival, featuring a Georgian program, took place in Zurich for the first time in October 2021. Later, the counterpart event "Bridge: Tbilisi – Zurich" was held in Tbilisi, showcasing a Swiss program. Before this festival, there were already many friendly and professional connections, very important joint projects, and festivals.
This might have contributed to the positive response and interest from leading Zurich institutions, who were quick to collaborate with the festival. The Zurich festival made such an impression that it paved the way for the second festival.
As for the program, the Georgian Festival in Zurich included a conference with panel discussions, reports, and installations featuring Georgian, Swiss, German, and Austrian participants. The conference took place at the Architecture Center, discussing architecture as a reflection of our cultural identity, as well as cultural and architectural processes in Switzerland and Georgia. The guest curator was Irina Kurtishvili. We also held a presentation of Aka Morchiladze's novel "Made in Tiflis" at the Zurich House of Literature and organized an event at the Kunsthalle, focusing on Georgian modernism, futurism, and Dadaism in collaboration with Cabaret Voltaire. Additionally, the "Georgiens Cineastinnen" film podium hosted a retrospective of Georgian women directors, and a concert-electronic live performance by musician Aleksandre Kordzaia took place in Kunstraum Walcheturm.
The criteria for selecting the program were novelty for Zurich, relevance to the overall concept, and high quality of creativity, among others. The interest in a specific program from the relevant partner institutions was crucial, as it would have been impossible to implement anything without their support.
Was the idea to replicate the festival in Tbilisi as a mirror image always part of the plan, or did it emerge later on?
Elene: Cultural dialogue must be two-sided, so it was indeed planned from the beginning to feature a Swiss program as part of the festival. The Swiss genuinely have a sincere interest in learning more about Georgia, and conversely, there's a certain curiosity about Swiss culture in Georgia. The program also includes an educational component, such as workshops with young directors, meetings, and conversations, which allows for the exchange of important knowledge and information.
How was the Swiss program chosen for the Tbilisi festival?
Elene: The exclusive program prepared for Tbilisi within the festival framework is entirely new for the Georgian audience, making it appealing to not only the general public but also to specialists in the field. The program covers cinema, literature, architecture, art, and music. These areas form a conceptual framework or matrix for presenting an interdisciplinary program.
To me, it's an interesting subject of research to see how these disciplines interrelate. Genres are more closely intertwined than they may appear at first glance, as they are all part of the larger cultural landscape. Architecture tells stories, just like literature, but through forms and silhouettes. Music has its own architecture, and cinema cannot exist without music, and so on. We may change or add disciplines in the future.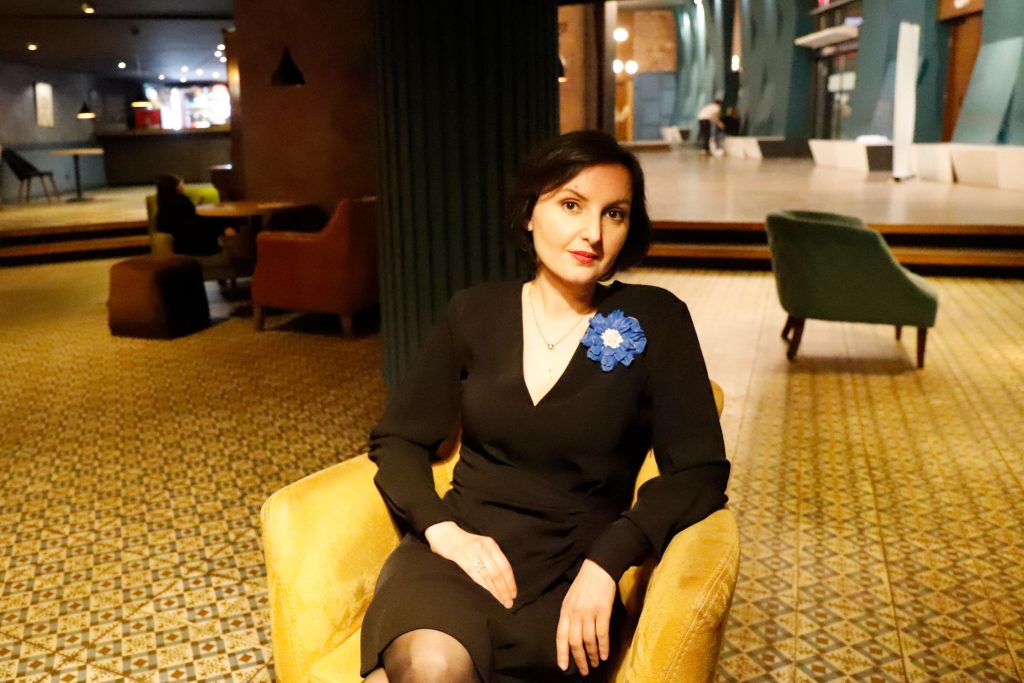 Elene, can you tell us about the event that took place on April 4 at TBC Concept? What kind of experience did you have partnering with TBC?
Elene: We held an architecture-focused event from the festival program at TBC Concept. Swiss architecture underwent a revitalization in the late eighties, particularly in the German-speaking part of the country, and its success soon garnered international attention. The lecture, titled "Swiss Architecture – Critical Aspects of the Success Story," was delivered by our invited speaker, Dr. Andre Bideau.
Dr. Bideau teaches architectural history and theory at the Academy of Architecture in Mendrisio and at ETH Zurich. He is also a co-founder of the Zurich Architecture Center and has curated exhibitions there. Following the lecture, we screened Christoph Schaub's remarkable documentary "Architecture of Infinity," in which the director explores "magical" and sacred spaces.
This was my first experience working with TBC Concept, and I must say, I'm impressed by the professionalism of the organizers. They have proven to be reliable partners, and I'm looking forward to collaborating with them in the future.
Sophie, what attracted TBC's attention to the festival, and what motivated you to sponsor this project?
Sophie: One of TBC Concept's core values is promoting cultural projects and showcasing our country on the international stage. By supporting the "Bridge: Tbilisi – Zurich" festival, we contribute not only to the promotion of modern art but also to the implementation of projects that, with a mirror effect, introduce Georgian culture abroad.
How would you evaluate the April 4 event within the partnership framework?
Sophie: Every project is unique and individual for us. We were delighted to host such a world-renowned architect as Andre Bideau. His lecture generated significant interest in society, particularly among the younger generation. TBC Concept's multifunctional space is designed to cater to our customers' interests and comfort, with diverse and consistently innovative events.
What does supporting such projects mean for TBC?
Sophie: For TBC Concept, promoting culture and introducing it to a wide audience is one of our key focuses. It's worth mentioning that TBC, throughout its 30-year history, has consistently supported artistic and educational projects associated with outstanding figures such as Petre Otskheli, Davit Kakabadze, Lado-Alexi Meskhishvili, and many others. We've also been involved with jazz festivals, the Tsinandali Festival, the Tbilisi International Film Festival, and more.
In the future, we are planning several events at TBC Concept, where attendees will have the opportunity to engage with leading artists from around the world and their creations.