Andrea Sanke – Journalist, Senior Presenter, TRT World – Istanbul
Educational Journey
Most certainly, the one thing that most shaped my educational journey was the opportunity to study at universities outside my home country. Though I graduated from the University of Missouri, I spent half of my time studying in Ecuador and Colombia, not only learning a foreign language but also gaining invaluable exposure to a foreign culture and political system. It significantly changed my understanding of the world, and I know today, I would not be the same person had I not done it.
Crucial skills to succeed
Having something unique to offer. Without it, you're one in a field of similar people, and easily replaceable. For me, it was a capacity to live and feel comfortable in various and differing environments, and speak multiple languages.
"Young Global Leaders" Initiative – increase living standards in the world 
It brings intelligent and accomplished people together from far and wide to educate each other, and carry the benefits of that education and exposure into our lives and work.
Fighting gender discrimination
There is definitely power in numbers. It is so important to be able to see each other's success as our collective success, rather that the success of a competitor.
Corporate social responsibility and women's empowerment 
It is extremely important for employers to contribute to women's empowerment. If they don't see the deficiencies arising from a lack of diversity in their workplaces or the benefits of giving back to their communities and societies, nothing will improve. Much of the wealth and opportunity on our planet is held within successful companies and business- without their attention and investment in order to empower women and promote social responsibility, things likely won't improve.
Advice to women to increase their socio-political participation
While being as active as you can within your country, it is also essential to build connections abroad. Georgia is a small country, and without a capacity to communicate with and thoroughly understand the people and the world outside it, it would be quite difficult to increase effective socio political participation.
Anu Barford – Professor of Law and International Organization, Columbia University
Educational Journey
I teach international law and EU law, so a deeper understanding of Georgia's conflict with Russia was extremely valuable for me. The visit to the demarcation line was a particularly confronting and powerful experience in this regard. I also gained new perspectives to Georgia's aspirations for EU and NATO membership through the various panels and speakers we had. A very different professional take-away for me was to witness firsthand the difference the two Columbia University-educated super stars, Valeri Chekheria and Levan Berulava—are making for the country through their world-class work in the hospitality industry.  Columbia can be so proud of them! I have also had some fantastic Georgian students at Columbia. I am thrilled to have the opportunity to educate some of your most talented young lawyers and see them return to Georgia that needs their talents, vision, skills, experience and contacts made while abroad. 
Crucial skills to succeed
I always emphasize three skills (my three "Cs"): creativity, curiosity and confidence.  Our graduates who end up being the most successful in life possess those qualities. 
"Young Global Leaders" Initiative – increase living standards in the world 
 A learning journey like this brings together people from different countries and backgrounds to intensely focus on one country and region—this time Georgia—gaining a deeper understanding of the country's success stories and challenges alike. We hope to have contributed to Georgia's present and future by engaging with the leaders we met. We shared many ideas, some of which will hopefully impact the decisions they make going forward. As a professor, I write about the EU's external relations and my scholarship will now be significantly more informed about the EU's trade and political relations with Georgia. 
Fighting gender discrimination
Transparency about salaries at workplace and through publication of all tax returns is very important. For example, Finland makes public all taxes every citizen pays. This would disclose any gender discrimination as well. Companies also need to be committed to mentoring women—and not only by other women but also by men. Media needs to actively feature women who can serve as role models for younger women, celebrating their successes but also calling out on companies and organizations that fail to promote women. 
Advice to women to increase their socio-political participation
It is difficult to succeed alone. Bring friends, build a team, rely on others, mentor others and actively seek to learn from others. Open doors for talented people around you as often as you can: there is room for everyone to succeed. In a small country like Georgia (similar to Finland where I come from), you need all your talents to leverage each other's networks and skills to make a difference together. 
Marietje Schaake – Member of European Parliament (Alliance of Liberals and Democrats for Europe)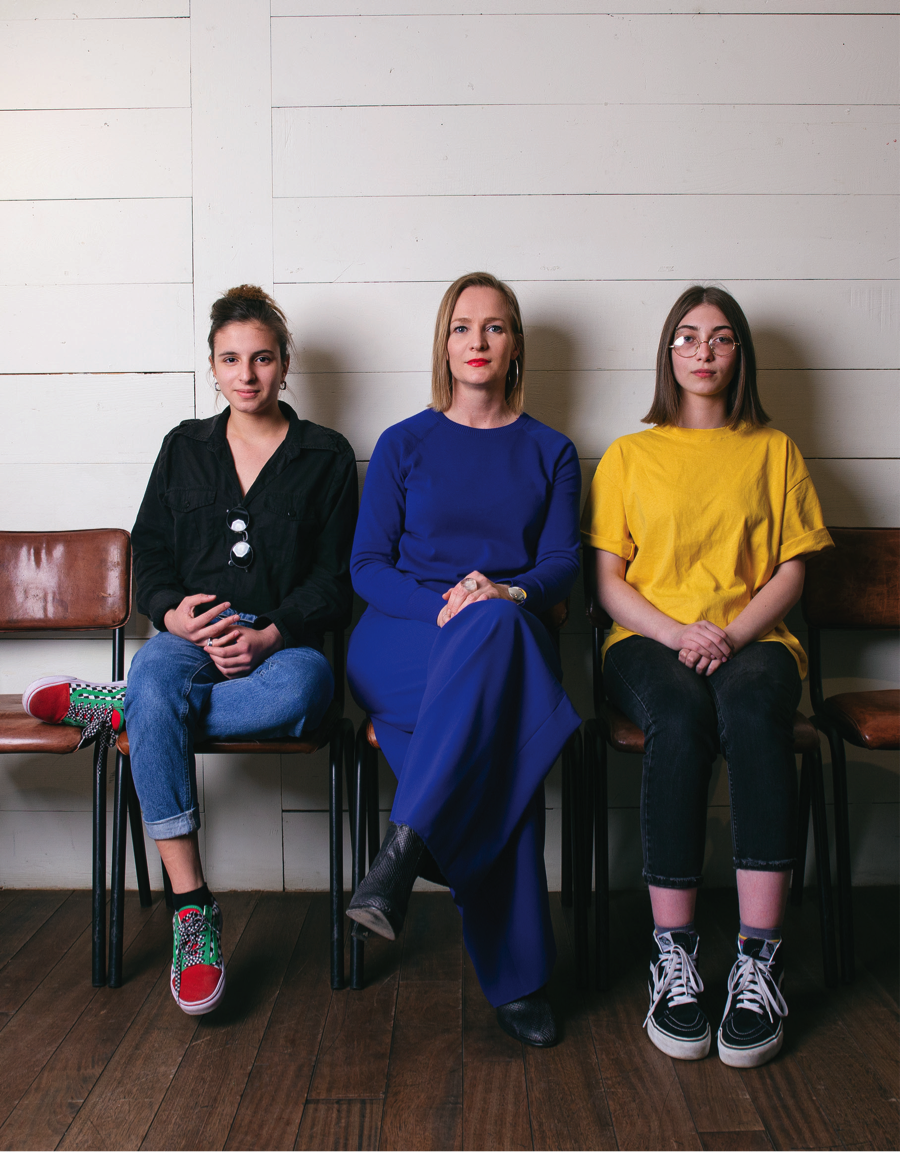 Educational Journey
I learned a lot though getting experience, from working in a restaurant to volunteering in a crisis shelter for women. I have always learned most by doing.
Crucial skills to succeed
In today's world you need digital skills, but I am also convinced there will always be space for legally, medically and financially trained professionals. Following your heart is the shortest way to a successful career, which should also be enjoyed, otherwise it is hard to keep up for 30-40 years!
Young Global Leaders Initiative – increase living standards in the world
We had the opportunity to see Georgia up, close and personal. It was helpful to see with our own eyes, how Putin's provocations impact poor farmers. The world, and especially Europe, can not remain silent. With stronger anchoring in the international community, I hope the lives of ordinary Georgians will improve. 
Fighting gender discrimination
Laws are very important. Equal pay for equal jobs, but also child care, and paternity leave. I believe the economic argument for not leaving out talent, will find the most support. Profit is a language everyone, including men, understands.
Corporate social responsibility and women's empowerment
I think it is the right thing to do. Companies should behave as corporate citizens, that should be a trusted part of society. Given the lack of trust in many corporate leaders, taking more social responsibility will be more a necessity than a luxury. 
Advice to women to increase their socio-political participation
Stay strong, support each other, and believe in your ability to find solutions, one step at a time!
Ng Yeen Seen – Founder and CEO of Centre for Research, Advisory and Technology (CREATE). Entrepreneurial Development Council Member, Ministry of Education, Malaysia.
Educational Journey
I remember during the first week of my Undergraduate studies in the UK, far away from home, I was shocked to find out that the Malaysian Student Society was in trouble. I somewhat felt that we inherited the society and hence we had to fight the uphill battle to appeal for the society to be re-registered with the University and the Student Union. I was among the 5 Malaysia students who took on the challenge to rebuild the society over 2 years and we managed to lay a solid foundation for the future Malaysian students in the University. That was the time I got myself into student politics.
Rebuilding a student society wasn't easy, but we weathered the storm together and we succeeded eventually. We learned how to fund raise, lobby for opportunities, volunteer to contribute more than expected and doing impact work throughout my years in universities.
I believe those were the opportunities given to me, for me to learn to be who I am today. I am grateful to those who have confidence in me, and given me the opportunities to prove myself along the way.
Crucial skills to succeed
It is important for us to first understand our own core skills, and to know which set of skills may be most transferable across industry boundaries. I believe that while we need to be very good in a focused area/core skills and be a specialist in that particular area(s); we also need to be a generalist in many other areas – we need to have – a good value system, a high IQ,  cross-cultural skills, agility, adaptability, professional ethics, communication skills as well as technical skills. Of course, the grit, perseverance, commitment and etc. are all very important to succeed in whatever we do.
Young Global Leaders Initiative – increase living standards in the world
This YGL Learning Journey to Georgia organized by our YGL Siblings is an eye opening experience for me. Coming from Malaysia which is a multi-cultural multi-religious society, I appreciate the richness in culture and the painful history of Georgia. 'The real voyage of discovery consists not in seeing new lands but in seeing with new eyes'; through this journey in Georgia, I contextualized what I read about Georgia, and appreciate the warm Georgian hospitality and tradition. Such experiences, I believe, will bring out the best and worst in all of us and from which we learn so much. 
Foreign visits and immersive learning journeys such as this to Georgia also encouraged me to see things from a different perspective, understand deeply the Georgian culture, be more culturally aware and sensitive of the histor and I believe that I return home to Malaysia becoming a more sensitive person.
Fighting gender discrimination
Women should be treated as human beings of equal worth and dignity as men.  I believe that we should educate the boys/men to respect women from young. Only when men are aware that they should treat women as equals, we have to continue to ensure that we present equal opportunities to everyone, regardless of gender, race and religion.  Non-discriminatory policies must be in place and we need to ensure of its implementation. Otherwise we will continue to see subtle nudges that keep women from certain sectors, certain positions; and it will never be fair play. 
Corporate social responsibility and women's empowerment
Women Empowerment is not a social responsibility. It is human responsibility. We should not deprive anyone of their constitutional right of being treated as equals before the law, be given equal opportunities in every front. It is important to recognize equality, justice and non-discrimination for women in all sectors and all levels of the society. 
For example, in a case of sexual harassment at the work place:- Too often, cases of sexual harassment and assault go unresolved due to lack of confidence in investigators and integrity of the process itself. In a situation of unequal power and standing, anonymity becomes a critical mechanism to ensure that discriminatory, exploitative and other forms of unacceptable practices becomes uncovered. This is an important principle that must be upheld and defended, as can be seen in the case of whistleblowers.
 Advice to women to increase their socio-political participation
Quality education opportunity should be extended to everyone and to strengthen civic education. It is important to provide exposure to young girls, to open their eyes to the career opportunities that are out there for them to believe that they can actually succeed in the global workplace. There are many women leaders, remain hidden in the shadows. They are unnamed and unknown but still contributing and playing an important role in their respective roles. We should celebrate the heroes (heroines) , and also the unsung heroes (heroines). A platform could be created to celebrate the success of women heroes, to recognize inspirational stars of tomorrow across diverse sectors. The platform will then serve the purpose of inspiring emerging leaders, who are tomorrow's game changers, disrupting stereotypes and driving positive impactful change. The programme will also encourage, motivate and at the same time provide role models to inspire and strengthen the female talent pipeline and in the process create a community of supportive and collaborative women.
Tamara Pavasovic Trost – Assistant professor of Sociology, Faculty of Economics, University of Ljubljana, Slovenia
Educational Journey
I attended high school in Serbia, and applied for college in the US. Once I was there, the college had many opportunities and scholarships for internships, summer schools, and various study experiences (debate team, model NATO, model UN), and I made sure I took advantage of all of them. Every summer during my university and masters studies, I did internships and summer schools, and I think this was the most important thing I could have done for my later career. I also established relationships and stayed in touch with my professors and mentors, which we are not trained to do in the post-Socialist spaces, and having mentors is actually critical for life success. But I also volunteered and was active in the community – and opportunities for this exist no matter where you are – and I think these kinds of experiences are important in becoming a well-balanced person.
Crucial skills to succeed
I think flexibility, ability to adjust, and creative thinking are becoming more and more important in today's fast-paced changing world. Unfortunately, these are skills not taught by traditional education, which is focused on repetition and standardization, so getting these skills in extracurricular activities and internships and study abroad programs becomes even more important.
Young Global Leaders Initiative – increase living standards in the world
One of the best ways to empower girls from an early age is to give them positive examples and role models. Changing early socialization in schools is super important, like gender roles in children's books, implicit messages sent to girls about their potential in STEM by teachers etc, increasing their self-confidence, and exposing them to examples of successful women. In the workplace, there are a number of things that help in fighting gender discrimination, which we must keep doing even once we ourselves have broken the "glass ceiling"- both in policy debates like advocating for better maternity laws, and in micro-settings at work, like speaking up when women are more heavily burdened with administrative tasks. 
Fighting gender discrimination/ Corporate social responsibility and women's empowerment
Although many people think feminism/women's empowerment somehow exists in opposition to men or trying to take something away from men, in reality, society (and companies!) benefit from more equal societies. It helps the economy – The Economist, for instance, reported that increasing women's participation in the labor market to male levels could boost national GDPs in Western Europe and North America by 10-20%; it helps men (reversing discrimination in custody laws, parental leave for birth of children, awareness of sexual violence against men, etc), and companies.
Advice to women to increase their socio-political participation
One of the things Georgia can be proud of is the increasing number of women in parliament, which used to be one of the lowest in Europe (share of women MPs was 6%). However, according to WEF's global gender gap, Georgia is still below average, scoring very high on women's educational attainment, but very low on women's political empowerment. This means that at some phase along the way, women disengage – likely because of expectations of family roles and a lack of opportunities. 
Anja Svetina Nabergoj – Lecturer, Hasso Plattner Institute of Design, Stanford University & Associate Professor, School of Business and Economics, University of Ljubljana
Educational Journey
Trip to Georgia was one of the most inspiring trips I have had in a long time. There are two things that really stuck with me after the visit. The first one is kindness of Georgians. Sincere kindness where people really care about one another. You can feel it everywhere, from hotel stay to walking on the streets of Tbilisi, to a late night dance in Bassiani. Georgians care!  The second thing has to do with aesthetics and design. I teach creativity, design thinking and innovation and always soak in the aesthetics of the place I visit. In Georgia I was met with an incredibly unique and fresh take on aesthetics from fashion to interior design. Especially in our globalized world where we see the same outfits and designer furniture pieces from Shanghai to Johannesburg and New York, it was such an inspiration to see something completely different and new. Georgia has incredible creative potential and I can't wait to see it bloom internationally as well.
Crucial skills to succeed
In my opinion knowledge is being widely available and competition to be the smartest and hardest working in class, in school in the country can't be won. There is always someone who can work more, who needs less sleep, who is more productive and gets more out of 24h or who is better in figuring out how to get into the most prestigious schools or land the most attractive jobs. So what I tell my students is to dig deep into oneself, get to know yourself and accept the full complexity of your personality, traits and abilities. Then match who you are with what you are hoping to achieve in the world and go do it. Find the state of flow that removes all distractions on your path and work hard on what you love, what you believe in. It might sound romantic but I have witnessed it and when this match happens, it is pure bliss. And incredible things can be achieved. Allow yourself to be vulnerable when getting to know yourself yet brave when making your dream come true.
Young Global Leaders Initiative – increase living standards in the world
Long time ago I stopped believing in tourism where you choose a destination, buy a travel guide, book a hotel and then (with more or less hysteria and fear of missing out) run from one thing to another, taking photos and buying souvenirs while completely missing out the atmosphere, noticing how local people go around their day and taking time to stop and meet them. For me the best way to travel is to live or work in a new city or country or visit someone you know, someone who can take you behind the veil and show you how it is to belong to the place. And this is what Georgian YGL created for us. We were able to get to know the country in a way that no travel guide could achieve. We met amazing people who believe in Georgia and are restoring what is amazing, revitalizing what has been forgotten and transforming what needs to be redesigned. It was an incredible takeaway to see how much can get done when the right people get together and see innovation as a team sport that required perseverance, resilience and ability to try and fail often in order to succeed.
Fighting gender discrimination/ Corporate social responsibility and women's empowerment
I often talk about self-care and self-love. Being kind to yourself, finding what feels good and listening to your intuition is incredibly hard for women, because we often ride on feelings of guilt or inadequacy. I will not go into the reasons why this is the case but if companies can help support any of those three aspects they can really help their employees, regardless of gender, to be not just high performing employees but also balanced human beings. Given that women in many countries still perform the majority of household and family responsibilities while also contributing to family income it is important to raise awareness among women and men about different responsibilities one has in life and how to balance them. Balance does not always mean 50/50 but it means respectfully finding ways to help one another. It means caring about one another. Regardless of gender.
Advice to women to increase their socio-political participation
During our learning journey we met incredibly smart, talented, creative women in Georgia who are in the government, leadership positions in companies or successful artists and designers. One thing they all had in common is femininity, grace as well as strength and resilience. You already have inspiring female role models in Georgia and I hope they will model behavior for the new generation. Sharing their real stories including struggles, sacrifices, barriers and constraints are much more useful than glowing portraits of success. Young women need role models that are real and authentic, models that can overcome times of adversity and come out more sensitive, less judgmental yet stronger. Striving toward gender equality does not mean that women need to be like men. It means for each of us to find out how we can best contribute to this world, not by achieving flashing success but by finding problems that are worth solving and finding solutions that matter, not just economically but for humanity. And all of that by living a fulfilling and balanced life.
Susan Mashibe – Founder and CEO, Via Aviation LTD
Educational Journey
My journey started when I visited our local airport and saw an airplane. It was then my dream to become a pilot started. After graduating from secondary school I went to the US (from Tanzania) to study aviation. Due to language barrier in communicating with control tower, I had to stop flying and focus on improving my English verbal skills. At the same time, since I was good in math and science subjects, I enrolled on to the Aircraft Maintenance Technology program instead. At the end, I became an aircraft maintenance engineer and resume my flight training. My pilot and maintenance training enabled me to start my own business aviation company.
Crucial skills to succeed
Any skill which will enable you to make quick and timely decision will give anyone a competitive edge in any field they are in.
Fighting gender discrimination
When you educate and empower a woman, you automatically uplift a community.
Corporate social responsibility and women's empowerment
The most successful way to fight gender discrimination is by having more and more women in leadership roles and decision-making positions.More and more companies are understanding the role of women in economic growth and more organizations are taking initiatives to identify women to mentor into leadership roles. 
Advice to women to increase their socio-political participation
Those women who are in position of power should actively mentor younger women.